Research reveals that 1.3% of adults in the OCED countries hold a doctorate across the 38 OCED countries. This means that only 2% of the population in the UK and the US has a doctorate.
Professional Doctorate programs hold benefits not only for those aiming for executive or leadership roles but also for individuals considering shifting to academics. However, earning a doctorate demands a substantial investment of time and commitment. It involves rigorous study, research endeavors, and extensive writing efforts.
To embark on your teaching journey, a strong passion for the given career is essential, along with recognition of the various opportunities that a professional doctorate can unlock. Keeping this in mind, let's delve into the top four Professional Doctorate in Education specializations that will help you discover your passion and find the right path for you.
4 Best Professional Doctorate In Education Programs That Are In-Demand
If you are willing to further your education and attain the pinnacle of qualifications but are worried about which field to choose, here are some of the programs that might interest you:
1. Education
Are you aspiring to become a school administrator? If you are passionate about teaching, then pursuing a degree in education would be a logical choice. This comprehensive degree offers the flexibility to tailor your studies to your preferences or specialize in a particular area. Specializations can include subjects like higher education, administrative roles, and classroom technology integration.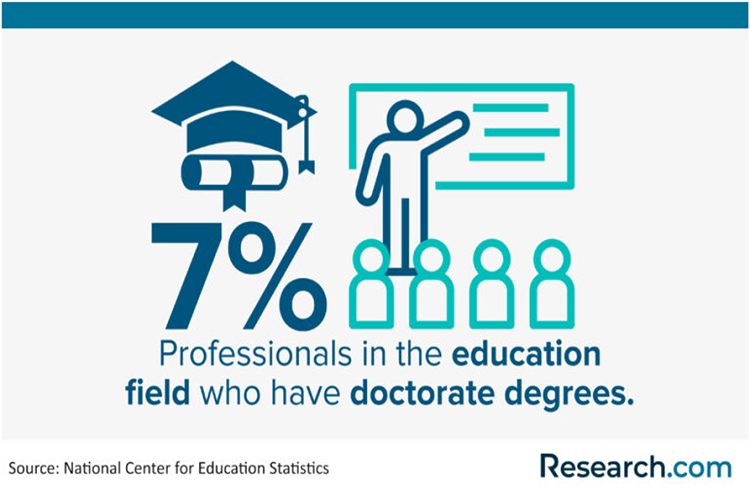 Source: research.com
In the realm of higher education, possibilities include becoming an academic dean or a professor.Beyond the educational realm, this degree can also enhance your abilities as a corporate trainer. If you're inclined toward public policy, you could play a role in shaping new education laws and initiatives.
2. Curriculum & Instruction
This degree is well-suited for individuals aiming to lead curriculum and instruction departments within school districts or education agencies. For instance, roles like instructional coach or curriculum director could be pursued. The knowledge gained can also enhance your capabilities as a principal or superintendent.
Alternatively, teaching in a college's education department is another avenue.Not all doctoral candidates in this program go on to work in traditional school settings. The knowledge acquired is also valuable for those overseeing educational initiatives in museums or community organizations. Moreover, expertise in this field can inform public policy decisions and foster a career as a trusted consultant.
3. Educational Leadership
Effective leadership is crucial for educational institutions and programs to succeed. To qualify for leadership roles in these settings, pursuing a degree in educational leadership is essential. With your guidance, you can support the growth of organizations and facilitate students' educational advancement. Naturally, this degree is most suitable for individuals aspiring to take on leadership positions within various organizations.
These organizations often include conventional school environments, such as becoming a school principal or a district, regional, or state superintendent. Furthermore, this degree can also open doors to leadership roles in educational contexts beyond K–12 education. For example, you could work at a university or within a daycare chain. Earning a doctorate in educational leadership holds value beyond educational institutions. You could lead employee development in a corporate setting, offer your expertise as a training consultant, or even become a community services manager overseeing outreach initiatives.
4. Special Education
Certain groups of students require personalized instruction and additional classroom support. Special education programs within schools are designed to address these unique needs. By enrolling in a doctoral program, you can learn how to provide effective leadership that centers on students' needs in these programs. You might choose to specialize in a particular area like early childhood education or visual impairment. Leaders in special education work within educational institutions and related organizations.
Your roles could encompass being a special education director or overseeing a school for special-needs students. As a curriculum developer, you could create teaching materials that cater to students with varying abilities. Studying special education also equips you to assume leadership roles in community organizations. You might engage in fields like behavioral health or early intervention.
Alternatively, you could dedicate yourself to shaping policies and advocating for the rights of special-needs learners at the state or federal level. You'll also explore strategies for supervising special education teachers, managing departmental changes, optimizing financial resources, and ensuring that all students receive an appropriate education.
Salary For Professional Doctorate Holders
It is said that people often do not go into the teaching industry because of its salary. Rightfully so, the basic salary of teachers is comparatively low that any other profession in the world. However, despite the taboo, increasing your experience and furthering your education will give you a significant boost to your earnings.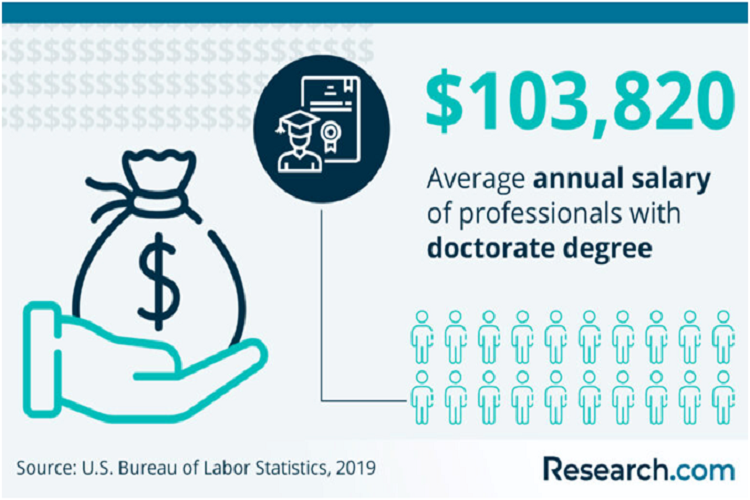 Source: research.com
The earning potential, however, depends on your field of interest, the type of institutions you are working in, and also the location that you choose. Regardless, a person holding a doctorate degree has numerous avenues open that increase their salary bracket as well.
Pick The Right Program For Your Career Aspirations
The rising demand for visionary leaders has led to a surge in the popularity of doctoral programs across various industries. If you aim to distinguish yourself from other leaders in the education sector, enrolling in Professional Doctorate in Education program can provide the competitive edge you're seeking.
Be self-aware of your skills and knowledge and discover the right course that aligns with your future aspirations.